Sharia law to be main source of legislation in Libya
Sharia law is set to guide Libyan legislation, but the transitional government insists it will be moderate.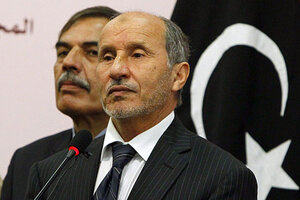 Francois Mori/AP
After giving a speech that emphasized the Islamization of Libya, the head of the transitional government on Monday tried to reassure the Western powers who helped topple Moammar Gadhafi that the country's new leaders are moderate Muslims.
Just as in neighboring Tunisia and Egypt, Islamists have emerged from yet another Arab Spring uprising as the most powerful group in the country. How far they will go will be decided at the ballot box — in Tunisia this week, in Egypt in November and in Libya within eight months.
National Transitional Council leader Mustafa Abdul-Jalil said Sunday that Islamic Sharia law would be the main source of legislation, that lawscontradicting its tenets would be nullified, and that polygamy would be legalized.
"I would like to assure the international community that we as Libyans are moderate Muslims," said Abdul-Jalil, who added that he was dismayed by the focus abroad on his comments Sunday on polygamy. A State Department spokeswoman said the U.S. was encouraged that he had clarified his earlier statement.
The stir created by Abdul-Jalil's address in Benghazi, the eastern Libyan city where the anti-Gadhafi uprising was born in mid-February, came as international pressure mounted on him to investigate the circumstances of Gadhafi's death.
---