Peru earthquake hits coast with 6.9 magnitude
Peru earthquake: a 6.9 magnitude earthquake wreaked havoc on Peru, causing a wider radius of action than the 2007 earthquake that killed 596 people.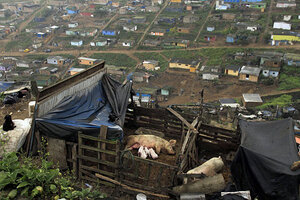 Pilar Olivares/Reuters/File
A magnitude-6.9 earthquake centered off Peru's central coast sent people running panicked into the streets Friday in cities badly damaged by a killer quake four years earlier. There were no reports of damage though hospital directors reported at least 20 injuries.
People who had lost loved ones and homes in the earlier quake were badly shaken and some broke into tears.
"It felt like the one in 2007 because it was very strong," Felix Sihuas told RPP radio. He said he was buried under rubble for six hours in the Aug. 15, 2007, quake, which killed 596 people and largely destroyed the town of Pisco.
Friday's quake was considerably less violent in Lima, a city of 8.5 million people. The capital shook for about 30 seconds in a series of moderate, swaying movements.
Several aftershocks followed with magnitudes up to 5.5, said the U.S. Geological Survey.
It said Friday's quake was centered 31 miles (51 kilometers) south-southwest of Ica, a provincial capital of about 200,000 people which suffered widespread damage in the 2007 quake. It was at a depth of 21.7 miles (35 kilometers).
---