Thailand floods: Bangkok flood defenses are holding
Thailand's prime minister expressed cautious optimism Saturday that the flood threat to Bangkok may be receding. But flooding from high tides may still pose a problem for a city just six feet above sea level.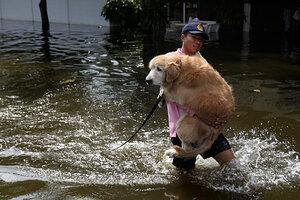 (AP Photo/Altaf Qadri)
Receding floodwaters north of Bangkok have reduced the threat to the Thai capital, the prime minister said on Saturday, but high tides in the Gulf of Thailand will still test the city's flood defenses.
"If things go on like this, we expect floodwater in Bangkok to recede within the first week of November," Prime Minister Yingluck Shinawatra said on national television.
Bangkok's main waterway, the Chao Phraya River, overflowed its banks in some areas on Saturday during high tides in the Gulf of Thailand, about 20 km (12 miles) to the south. The high tides will last until Monday.
The city's normally bustling Chinatown was flooded, as were the streets around the glittering Grand Palace and Temple of the Reclining Buddha, areas usually thronged with tourists.
Buildings across Bangkok have been sand-bagged or walled off for protection. Many people have left their cars on elevated roads, although most of the inner city is dry.
Many others have taken advantage of a special five-day holiday to flee the city. Those left behind have stocked up on water, food, life jackets and even boats.
Thailand's worst floods in half a century have killed 381 people since July, wiped out a quarter of the main rice crop in the world's biggest rice exporter, forced up global prices of computer hard drives and caused delays in global auto production after destroying industrial estates.
---