Norway terrorist admits to summer camp massacre of 77 people
Anders Behring Breivik, admitted to killing 77 people at a Labor Party summer camp, but refused to plead guilty in court today. An anti-Muslim militant, Breivik said his goal was to ignite a war to defend Europe against a Muslim takeover.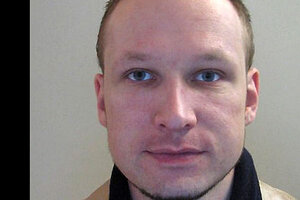 (AP Photo/Norwegian Police via Scanpix Norway, File)
The anti-Muslim militant who killed 77 people in Norway on July 22, shattering a nation known for its open society, acknowledged carrying out the massacre but refused to plead guilty in his first public hearing since the attacks.
Anders Behring Breivik, speaking on Monday at a court just two blocks from where he detonated a huge home-made bomb before shooting 69 people at the ruling Labour Party's summer camp, also rejected the court's authority to hear his case.
"I am a military commander in the Norwegian resistance movement and Knights Templar Norway. Regarding the competence (of the court), I object to it because you received your mandate from organizations that support hate ideology (and) because it supports multiculturalism," Breivik told the court.
It was the first time survivors and the families of victim were able to see Breivik face-to-face since the attack on the government and the ruling party for what Breivik said was their promotion of immigration.
Oil-producing Norway, home to the Nobel Peace Prize, is known for its open society, peace and relative prosperity. The attacks sparked a public debate about immigration, security and a legal system which never had to cope with such an event.
"I acknowledge the acts but I do not plead guilty," Breivik told the court.
"HE AIMED AT ME"
Breivik, speaking at a court picketed by a group of protesters holding a banner that read "No speakers' platform for fascists," attempted to address survivors and victims' relatives but the court denied his request.
---