Hillary Clinton barefoot in (Burma) Myanmar
Hillary Clinton and her entourage went shoeless to visit the Shwedagon Pagoda in Burma (Myanmar). Later, Clinton had dinner with Aung San Suu Kyi, a Nobel Peace Prize laureate.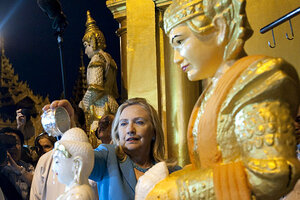 AP Photo/Saul Loeb
US Secretary of State Hillary Clinton and her security detail went barefoot for a tour of one of Myanmar's most revered shrines, a towering golden pagoda that is the symbol of a country seeking fresh rapprochement with the West.
Mrs. Clinton arrived at the Shwedagon Pagoda shortly after arriving in Myanmar's main commercial city, Yangon, and took off her shoes to follow respectful Buddhist tradition at a site rich with religious and patriotic significance for the country also known as Burma.
Clinton's U.S. diplomatic security detail quickly followed suit, while barefoot agents in business suits fanned out across the huge complex of spires and Buddha statues, muttering into their radios.
A crowd of tourists and local visitors applauded as Clinton made the rounds, stopping to make an offering of flowers in front of the Gold Buddha statue, one of the centerpieces of the elaborate pagoda site, as well as to pause and hit a huge bell three times with a gold-adorned staff.
"Hitting the bell means she is sharing the merits of today's events for both of our countries," said Phone Myint, one of the tour guides at the shrine which dates back as far as the 6th century.
The visit represented an incongruous mash-up of official Washington, Asian tradition and modern-day tourism, with Clinton and her entire staff of diplomats, advisers and the travelling press all shuffling shoe-less past Buddha statues decorated with neon halos and stalked by feral cats.
---