Attacks on Afghan Shiites raise specter of Iraq-like violence
A suicide bomber killed dozens of Shiite Muslims in Kabul, Afghanistan, Tuesday. It was the deadliest bombing in Kabul since 2008.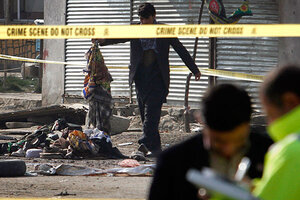 (AP Photo/Musadeq Sadeq)
A suicide attack killed dozens of Shiite Muslims at a crowded Kabul shrine on Tuesday and four died in a smaller blast in a key northern city in the worst sectarian violence Afghanistan has seen since the fall of the Taliban.
The Kabul bomb was the deadliest in the capital since 2008, and comes a day after a conference where Western allies made firm but not specific promises to support Afghanistan after troops leave in 2014.
The blast occurred on a street in the heart of old Kabul where a crowd of hundreds had gathered to mark the festival of Ashura, with chanting and self-flagellation.
At least 55 were killed and 160 wounded, some critically.
Afghans, who have previously been spared the large-scale sectarian attacks that regularly trouble Iraq and neighbouring Pakistan, are now speculating whether they face a new type of bloodshed being added to the dangers of daily life.
"This is the first time on such an important religious day in Afghanistan that terrorism of that horrible nature is taking place," Afghan President Hamid Karzai told journalists in Germany, where the conference on Afghanistan's future was held.
No one immediately claimed responsibility for the attacks in Kabul and northern Mazar-i-Sharif.
The interior ministry blamed "the Taliban and terrorists", without giving further details. The insurgents group strongly condemned the bombings and blamed "invader enemies".
---