Occupy Moscow? Street protests over Vladimir Putin presidency
On Monday, 5,000 protesters chanted "Russia without Putin." More protests are planned Wednesday night in Moscow over election rigging by Vladimir Putin's United Russia party.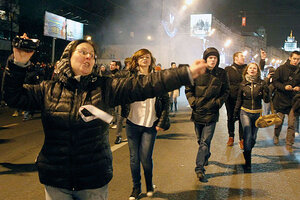 Misha Japaridze/AP
Vladimir Putin filed candidacy papers for a March 4 presidential election on Wednesday while his opponents prepared for more protests over a parliamentary vote they say was rigged in favour of his ruling party.
Some 5,000 people turned out on Monday night for the largest opposition protest in Moscow in years, many chanting "Russia without Putin!". More than 300 were detained on Tuesday after a similar demonstration.
Putin submitted his registration documents in a brief and nearly silent visit to the Central Election Commission headquarters in a lane near the Kremlin.
Registration as a candidate is a formal step towards what could be 12 more years in the top job for Putin. He was president from 2000 to 2008 and is now prime minister, but the 59-year-old remains Russia's paramount leader.
But voters bruised Putin on Sunday by sharply reducing his party's majority in the State Duma lower house, which he uses as both an instrument of power and a source of support.
United Russia received 49.4 percent of the votes, according to the election commission, down from 64.3 percent in 2007. It will have 238 seats in the 450-member Duma, down from 315 now.
Protests over the election, fanned by fraud accusations that have spread on the Internet, have underscored anger at United Russia and unhappiness among some Russians at the prospect of Putin's almost certain return to the presidency.
LOCKED UP
---