Belgium gunman also killed a cleaning woman
A lone gunman, who sprayed bullets at Christmas shoppers in Belgium Tuesday, also apparently killed his cleaning woman, said police.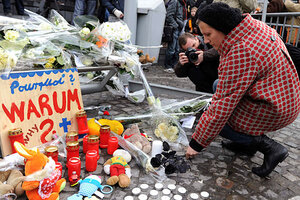 REUTERS/Laurent Dubrule
A lone gunman brought carnage to the Belgian city of Liege on Tuesday, spraying bullets at Christmas shoppers and hurling a grenade at people waiting for a bus, killing three people including a girl of 17 months before shooting himself dead.
On Wednesday, Belgian authorities say they found the body of a cleaning woman in the home of the attacker.
The attack, in which another 125 people were wounded, paralyzed the center of Belgiums fifth city, with workers trapped in offices as police sealed off the area, helicopters circled, and ambulances poured in from as far away as the Netherlands.
RECOMMENDED: Think you know Europe? Take our quiz
The man's motive was unclear but Belgian officials said there was no indication it was an act of terrorism.
Witnesses said 33-year-old Nordine Amrani had begun his rampage at about 12:30 p.m. near a bus stop at Place Saint Lambert, site of Liege's bustling Christmas market and its main courthouse. Shoppers scattered to flee the bullets.
Amrani was freed from jail about a year ago after a conviction for possessing weapons and drug offences.
Justice officials said Amrani had been summoned to answer police questions that morning on an undisclosed matter, but never turned up.
One witness told RTBF radio: "He had a bag. He got a grenade out of his bag. He threw the grenade at the bus stop.
"Then he had a Kalashnikov (rifle). He shot in all directions. Then everyone ran to try to save themselves. Then he got a revolver out and put a bullet in his head."
TODDLER DIES
Police said the dead were two boys of 15 and 17, and a toddler of just 17 months whom hospital doctors fought for hours to save.
Liege's mayor, Willy Demeyer, said the two boys had been taking school exams nearby just before the attack.
---