Vladimir Putin mocks Moscow protesters, says they were paid
In 4.5-hour live TV show, Russian Prime Minister Vladimir Putin said he thought protest ribbons were condoms. Putin also suggested Moscow street protesters were paid to be there.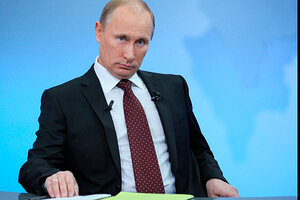 (AP Photo/RIA Novosti, Alexei Nikolsky, pool)
Vladimir Putin Putin offered to ease slightly his tight political control of Russian politics in token concessions to protesters he suggested had been paid to turn out in the biggest demonstrations since he took power 12 years ago.
In a 4-1/2 hour call-in question-and-answer show that was broadcast live across Russia and intended to rebuild support as he prepares to reclaim the presidency, the long-serving prime minister sought to portray himself as a reasonable, even-handed national leader who can unite his people.
But many Russians on the social network Twitter suggested his efforts had failed, saying the 59-year-old former spy was out of touch three months before the presidential election he hopes to win.
RECOMMENDED: Putin's Famous Poses
Breaking his silence on rallies by tens of thousands of people on Dec. 10 Putin mixed words of praise with suggestions that some of the demonstrators complaining of electoral fraud and demanding a new election were paid to show up.
"I saw on people on the TV screens ... mostly young people, active and with positions that they expressed clearly," Putin said. "This makes me happy, and if that is the result of the Putin regime, that's good -- there's nothing bad about it."
"They will at least make some money," he said, without saying who he thought might have been the paymaster. Putin has in the past, to the derision of opponents, suggested the United States had stirred protests and foreign states had funded them.
---