Vaclav Havel: remembering the Czech president, playwright, and peacenik
Vaclav Havel went from being a playwright to a symbol of the new Czech state and democracy in Eastern Europe. Along the way he became Czech's first democratically elected president, nominee and winner of prestigious peace prizes, and one of the world's preeminent anti-communist revolutionaries.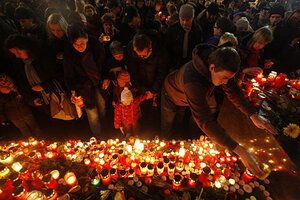 Petr David Josek/AP
Vaclav Havel wove theater into revolution, leading the charge to peacefully bring down communism in a regime he ridiculed as "Absurdistan" and proving the power of the people to overcome totalitarian rule.
Shy and bookish, with a wispy mustache and unkempt hair, the dissident playwright was an unlikely hero of Czechoslovakia's 1989 "Velvet Revolution" after four decades of suffocating repression — and of the epic struggle that ended the wider Cold War.
He was his country's first democratically elected president, leading it through the early challenges of democracy and its peaceful 1993 breakup into the Czech Republic and Slovakia, though his image suffered as his people discovered the difficulties of transforming their society.
A former chain-smoker who had a history of chronic respiratory problems dating back to his years in communist jails, Havel died Sunday morning at his weekend home in the northern Czech Republic, his assistant Sabina Tancevova said. His wife Dagmar and a nun who had been caring for him the last few months of his life were by his side, she said. He was 75.
"A great fighter for the freedom of nations and for democracy has died," said Lech Walesa, his fellow anti-communist activist who founded neighboring Poland's Solidarity movement. "His outstanding voice of wisdom will be missed."
---