Kim Jong-il died of heart attack. North Korea mourns for 11 days.
Kim Jong-il died of a heart attack Saturday, due to 'overwork and stress' according to North Korean officials. Experts are concerned that his third son, Kim Jong-un, may feel the need to prove himself by precipitating a crisis.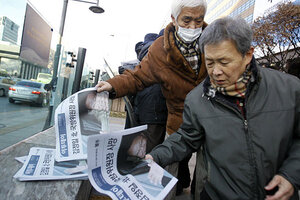 Lee Jin-man/AP
North Korea prepared to lay longtime ruler Kim Jong Il to rest while the hermit state's official media on Tuesday lauded his son and heir apparent as a person "born of heaven" — suggesting the transition to a new leadership was under way.
The streets of the North Korean capital, Pyongyang, were quiet Tuesday morning as thousands grieved the death of their "Dear Leader." With an 11-day mourning period in effect, flags flew at half staff, shops were closed and streams of mourners — some wailing — placed flowers at memorials around the city.
"Today, as well as yesterday, the Korean people have been coming here to Mansu Hill in deep sorrow at the loss of the benevolent father of our nation with the infinite feeling of longing," said Ri Ho Il, a lecturer at the Korean Revolutionary History Museum. "Our General (Kim Jong Il) is our people's benevolent father. He defended our people's happiness, carrying on his forced march both night and day."
Kim died Saturday of a massive heart attack brought about by overwork and stress, according to the North's media. He was 69 — though some experts question the official accounts of his birth date and location. The state funeral is to be held on Dec. 28.
North Korean officials say they will not invite foreign delegations and will allow no entertainment during the mourning period.
Kim's death and the possibility of a power struggle in a country armed with nuclear weapons and known for its unpredictability has heightened tensions in the region.
President Barack Obama agreed by phone with South Korean President Lee Myung-bak to closely monitor developments. Japan's government also said it was being vigilant for any "unexpected developments."
---