Typhoon Sendong recovery efforts begin in Philippines
Typhoon Sendong (aka Typhoon Washi) left more than 600 dead this weekend as flash floods hammered the Philippines. There are also more than 800 people missing in the wake of Typhoon Sendong.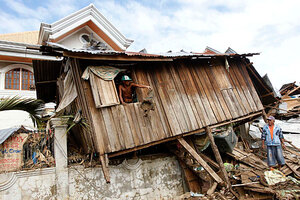 REUTERS/Erik De Castro
Disaster agencies on Monday delivered food, water, body bags, and medicine to crowded evacuation centres in the southern Philippines as officials ordered the digging of graves after hundreds died from flash floods.
The national disaster agency said 684 died after Typhoon Sendong (also known as Typhoon Washi) slammed ashore in Mindanao island while residents slept at the weekend, sending torrents of water and mud through riverside villages and sweeping houses out to sea.
The Philippine National Red Cross put the toll at 652 killed and more than 800 missing. The casualties far exceeded the 464 people killed in 2009 when a tropical storm dumped heavy rain on the main Luzon island, inundating nearly the entire capital Manila.
IN PICTURES: Typhoons hit the Philippines
The head of the national disaster agency, Benito Ramos, had earlier suggested digging mass graves to prevent outbreaks of disease, but the two worst hit cities took different approaches.
Officials in Iligan said they would bury about 80 bodies at a public cemetery on Monday -- but in individual plots and tombs. Workers were rushing to construct tombs.
"Definitely, we are not burying them in mass graves. That is not allowed any more," Levi Villarin, city health officer, told Reuters.
In Cagayan de Oro, further east along Mindanao's north coast, officials moved hundreds of unclaimed bodies to a sanitary landfill for a mass burial/
---