Piers Morgan stays mum about Paul McCartney phone message
Piers Morgan refused to confirm details of a voice message left by Paul McCartney. Piers Morgan testified today at a London inquiry into phone hacking by British tabloids.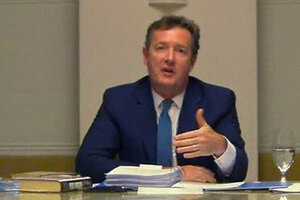 AP
CNN star interviewer Piers Morgan refused Tuesday to disclose details about the most damning link between himself and Britain's phone hacking scandal — his acknowledgment that he once listened to a phone message left by Paul McCartney for his then-wife Heather Mills.
In a 2006 article in the Daily Mail tabloid, Morgan said he was played a phone message left by the former Beatle on Mills' answering machine, describing it in detail and noting that McCartney "even sang 'We Can Work It Out' into the answerphone."
Mills has said there's no way Morgan could have obtained the message honestly.
RECOMMENDED: Key players in phone hacking scandal
Morgan stubbornly refused to answer almost any questions about how he came to hear the message, saying that doing so would compromise a source.
"I'm not going to start any trail that leads to the identification of a source," he said.
Asked by inquiry chief Lord Justice Brian Leveson whether he could supply any information to back the assertion that he had heard the recording legally, Morgan said he couldn't.
Earlier Morgan said he "doesn't believe" he had ever listened to hacked voicemail message — and dismissed earlier interviews — in which he'd discussed phone hacking at length — as having been based on rumor and hearsay.
He refused to say who had filled him in about the practice.
---