Typhoon Sendong: Did illegal logging cause flash flooding in Philippines?
Typhoon Sendong death toll rises to 1,000. Philippine President Benigno Aquino orders an investigation into national disaster, wonders if violations of logging ban exacerbated Typhoon Sendong damages.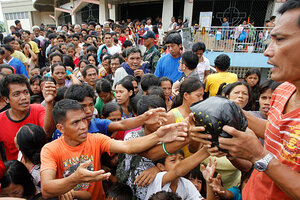 REUTERS/Erik De Castro
Philippine President Benigno Aquino ordered an investigation on Tuesday into flash floods and landslides that sent mud and logs crashing down on residents, killing about 1,000 people on a southern island.
The national disaster agency said 957 were killed and 49 missing on Mindanao after Typhoon Sendong (aka Typhoon Washi) triggered the slides. Most of the casualties were in the cities of Cagayan de Oro and Iligan and tens of thousands remain homeless, many sheltering in evacuation centres.
Aquino met officials in the two cities worst hit by the cascades that swept down mountainsides as residents of riverside and coastal villages slept in the early hours of Saturday.
IN PICTURES: Typhoons hammer the Philippines
"First priority is to relocate to areas that no longer pose a danger to them," Aquino told a meeting in Cagayan de Oro, issuing instructions to implement disaster mitigation programmes, including reforestation.
He later told a gathering at a school: "We have no desire to engage in finger-pointing or to assign blame at a time like this. Yet, we have an obligation to find out exactly what has happened."
Aquino said he had formed a task force to investigate the reasons behind the disaster and to determine whether a nationwide logging ban had been violated.
---