Piers Morgan editorship: Phone hacking rife at British tabloid, says columnist
Piers Morgan must have known about phone hacking at the Daily Mirror, says a former columnist in testimony Wednesday in London. Piers Morgan testified Tuesday that he never took part in the illegal phone hacking.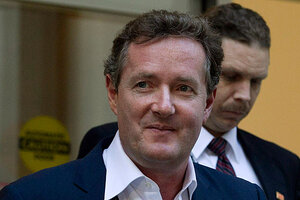 (AP Photo/Jae C. Hong)
Phone-hacking was widespread at Piers Morgan's Daily Mirror, a former columnist at the tabloid said on Wednesday, as an official inquiry unearthed further evidence of the illegal practice in the British press.
James Hipwell, fired from the Mirror in 2000 and later jailed for illegal share dealing linked to his financial column, said he witnessed hacking going on daily in 1999 by Mirror showbusiness reporters working a few feet from his own desk.
Hipwell said he believed the practice was sanctioned by senior editors, although he had not seen it taking place in the presence of Morgan, who edited the newspaper from 1995 until 2004, or discussed in front of him.
RECOMMENDED: How to prevent your Gmail from being hacked
"It seemed to me that what they were doing was entirely accepted by the senior editors on the newspaper," he told the Leveson Inquiry into press standards. "I think it was seen as a slightly underhand thing to do but not illegal."
Morgan, now a CNN talk-show host in the United States, edited the Rupert Murdoch tabloid at the heart of the phone-hacking scandal, the News of the World, from 1994 to 1995 before going on to edit the Daily Mirror from 1995 to 2004.
---
Follow Stories Like This
Get the Monitor stories you care about delivered to your inbox.