US airstrike on Pakistani troops: Both sides to blame, says Pentagon
The Pakistan military fired on US helicopters and gaps in US information lead to a US airstrike that killed 24 Pakistani soldiers, says Pentagon in report.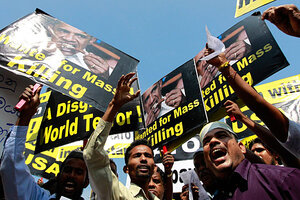 REUTERS/Dinuka Liyanawatte
A U.S. military investigation found on Thursday that both American and Pakistani forces were to blame in an incident along the Afghanistan-Pakistan border that killed 24 Pakistani troops and inflamed already strained U.S.-Pakistan ties.
"Inadequate coordination by U.S. and Pakistani military officers operating through the border coordination center - including our reliance on incorrect mapping information shared with the Pakistani liaison officer - resulted in a misunderstanding about the true location of Pakistani military units," the Pentagon said in a statement summarizing conclusions from an investigation into the Nov. 26 incident.
"This, coupled with other gaps in information about the activities and placement of units from both sides, contributed to the tragic result," the statement said.
RECOMMENDED: US aid to Pakistan, where is the money going?
The air strike was the latest incident to test U.S. ties with its uneasy ally, whose help it needs to combat militants fueling violence against U.S. and NATO forces in Afghanistan.
The loss of life in the border incident and the initial NATO response incensed the Pakistanis, who demanded that the United States depart from an air base used to launch drone flights within 15 days and blocked ground supply routes through Pakistan to U.S. forces in Afghanistan. They also want a formal U.S. apology.
---