Egypt seeks death by hanging for Hosni Mubarak
Egyptian prosecutors sought the death penalty in the trial of former President Hosni Mubarak. They say he was complicit in the killing of more than 800 Egyptian protesters last year.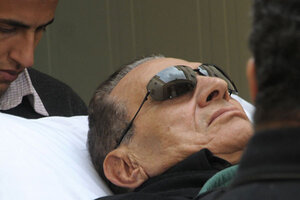 (AP Photo/Mohammed al-Law)
The prosecutor in the trial of Hosni Mubarak demanded on Thursday that the ousted Egyptian leader be sentenced to hang on charges of complicity in the killing of protesters during last year's uprising against his rule.
Mustafa Khater, one of a five-member prosecution team, also asked the judge for the death sentence for Mubarak's security chief and six top police commanders being tried in the same case.
"Retribution is the solution. Any fair judge must issue a death sentence for these defendants," said Khater on the third and final day of the prosecution's opening statement. "We feel the spirits of the matryrs flying over this hall of sacred justice and those who lost their sight by the bullets of the defendants are stumbling around it to reach the judge and demand fair retribution from those who attacked them," he said.
IN PICTURES: Tahrir Square clashes
"The nation and the people are awaiting a word of justice and righteousness."
Mubarak's two sons, one-time heir apparent Gamal and Alaa, face corruption charges in the same trial along with their father and a close family friend who is a fugitive.
An 18-day uprising forced Mubarak, 83, to step down on Feb. 11 after a nearly 30-year rule. The military, led by a general who served as defense minister under Mubarak for 20 years, replaced him in power.
Earlier in Thursday's hearing, chief prosecutor Mustafa Suleiman said Mubarak was "politically and legally" responsible for the killing of the protesters and charged that the former president did nothing to stop the killings that he was aware of from meetings with aides, regional TV channels and reports by his security agencies.
He said Mubarak's security chief and co-defendant, former interior minister Habib el-Adly, authorized the use of live ammunition on orders from Mubarak.
---