Two rescued alive aboard cruise ship off coast of Italy
A couple was found alive Saturday aboard the cruise ship Costa Concordia that ran aground off the coast of Italy. The captain of the cruise ship was arrested Saturday in Italy.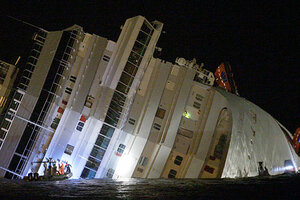 REUTERS/ Remo Casilli
Rome and Porto Santo Stephano, Italy
Firefighters have reached two people alive on the stricken Italian cruise ship Costa Concordia, the Italian news agency Ansa reported on Sunday.
The firefighters had made voice contact with the couple earlier and found the taking refuge in a cabin aboard the ship.
Meanwhile, the captain of the Costa Concordia, the ship that ran aground off Italy, was arrested on suspicion of multiple manslaughter, causing a shipwreck and abandoning ship, police said on Saturday.
IN PICTURES: Costa Concordia runs aground
Police said the captain, Francesco Schettino, was taken to a jail in the provincial capital Grosseto to await questioning by a magistrate.
The captain appears to have taken the vessel very close to the shore in a dangerous manner, officials said on Saturday.
At least three people died in the disaster. The huge, 290 metre long vessel, carrying more than 4,200 passengers and crew, ran aground in shallow waters off the Tuscan island of Giglio but the exact circumstances of the incident remain unclear.
"There was a dangerous close approach which very probably caused the accident, although it will be for the investigation to establish that fully," coast guard spokesman Luciano Nicastro told SkyTG24.
He said the captain then attempted a safety manoeuvre, setting anchor and bringing the ship closer to the shore to facilitate a rescue.
"This was an operation which allowed thousands of people to be taken ashore quickly and in a reasonably safe manner," he said.
---