Revolution possible if democracy wasn't embraced, Russian presidential candidate says
Mikhail Prokhorov is challenging current Russian prime minister Vladimir Putin for the presidency in March.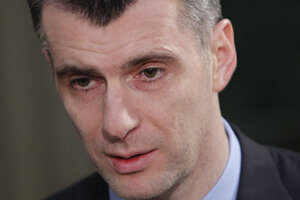 Anton Golubev/REUTERS
Mikhail Prokhorov, a super-rich tycoon challenging Vladimir Putin for Russia's presidency in March, said his country faced the danger of violent revolution if it did not break conservative resistance and move quickly to democracy.
Prokhorov, a billionaire bachelor long seen more as playboy than politician, told The Freeland File on reuters.com Russians had shaken off a post-Soviet apathy and were now 'just crazy about politics'. He denied accusations he was a Kremlin tool, let into the race to split the opposition and lend democratic legitimacy to a vote Putin seems almost certain to win.
Putin is seeking to return to the Kremlin and rule until at least 2018, but protests against alleged fraud in a Dec. 4 parliamentary vote have exposed growing discontent with the system he has dominated for 12 years.
"What worked before does not work now. Look in the streets. People are not happy," Prokhorov, 46, said in the interview beneath the windowed dome that soars above his spacious office on a central Moscow boulevard close to the Kremlin.
"It is time to change," said Prokhorov, ranked by Forbes magazine as Russia's third-richest person, with an $18 billion metals-to-banking empire that includes the New Jersey Nets basketball team in the United States.
"Stability at any price is no longer acceptable for Russians."
---