Peace Corps Honduras: Why are all the US volunteers leaving?
Peace Corps Honduras: The 158 Peace Crops volunteers have been ordered out of Honduras. There's also a freeze on new Peace Corps volunteers going to Guatemala and El Salvador.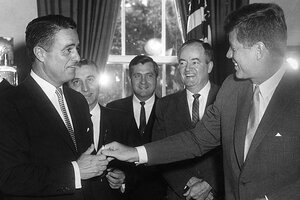 REUTERS/JFK Library/
The U.S. government's decision to pull out all its Peace Corps volunteers from Honduras for safety reasons is yet another blow to a nation still battered by a coup and recently labeled the world's most deadly country.
Neither U.S. nor Honduran officials have said what specifically prompted them to withdraw the 158 Peace Corps volunteers, which the U.S. State Department in 2011 called one of the largest missions in the world.
But the wave of violence and drug cartel-related crime hitting the Central American country had affected volunteers working on HIV prevention, water sanitation and youth projects, President Porfirio Lobo acknowledged.
QUIZ: Think you know Latin America? Take the quiz
Last month, The Christian Science Monitor reported that Kristina Edmunson, a Peace Corps spokeswoman in Washington, said the moves stemmed from "comprehensive safety and security concerns" rather than any specific threat or incident.
Monday's pullout also comes less than two months after U.S. Rep. Howard Berman, a California Democrat, asked Secretary of State Hillary Clinton to reconsider sending police and military aid to Honduras as a response to human rights abuses.
---