Costa Concordia owner offers refunds, but gets low marks for response
Costa Concordia survivors will get full refunds, plus travel and lodging costs covered. But Costa Concordia owner Carnival Corp. faces criticism for its handling of the tragedy.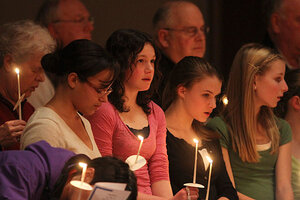 (AP Photo/The Star Tribune, Kyndell Harkness)
Carnival Corp & plc, whose luxury liner Costa Concordia capsized off the coast of Italy last week, said it was providing lodging, refunds and other support to people affected by the accident, even as some public relations executives criticized the company's handling of the situation.
"I give my personal assurance that we will take care of each and every one of our guests, crew and their families affected by this tragic event," Carnival Chief Executive Micky Arison said in a statement late on Wednesday - five days after the incident that left 11 people dead and 22 missing.
Costa Cruise Lines, a unit of Miami-based Carnival and operator of the ship, has been arranging lodging and transportation for passengers and crew members to return home, and has offered assistance and counseling as needed. It has also begun refunding passengers their cruise fares and all costs incurred while on board.
IN PICTURES: The sinking of the Costa Concordia
The company - owned by Carnival, the world's largest cruise line operator – also said it was contacting every passenger and crew member or their family and will be addressing personal possessions lost on board.
For passengers that have tickets to sail on future Costa Concordia cruises, the company is offering a full refund plus a 30 percent cruise credit, The Washington Post reports.
---