Costa Concordia company to offer compensation to ship passengers
Costa Cruises has negotiated with consumer groups compensation worth thousands of dollars to passengers who were aboard the Costa Concordia when it ran aground earlier this month off the Italian coast.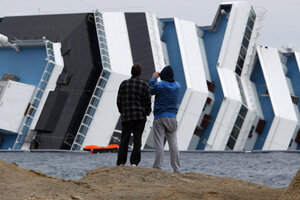 Darrin Zammit Lupi/REUTERS
Costa Cruises has offered to pay $14,500 in compensation to each of the more than 3,000 passengers aboard the ship that capsized near the island of Giglio two weeks ago, Italian consumer groups said on Friday.
The offer, negotiated by the consumer groups, is an attempt by Costa Cruises to limit the legal fallout of the accident.
Each passenger would also receive a refund on the cruise and costs of their return home. The offer applies to all passengers, whether a child or an adult, who suffered no physical injuries. Injured passengers will be dealt with individually.
Those accepting the offer would have to agree to drop all future litigation, and receive payment within seven days.
Costa Cruises' U.S. parent company Carnival Plc is already facing legal action for compensation.
Codacons, a consumer group which did not participate in the negotiation, is collecting names for a class action suit to be filed in Miami requesting 125,000 euros for each passenger.
Carlo Rienzi, president of Codacons, said the offer was insufficient and urged passengers to see a doctor to check whether they had suffered psychological trauma.
Meanwhile, John Arthur Eaves, a U.S. personal injury lawyer, is urging passengers to file individual lawsuits in the United States. Eaves represented families of some of those killed when a U.S. military jet struck and severed cables holding skiers in a cable car in northern Italy in 1998, killing 20.
---