Alberto Contador stripped of Tour de France title amid doping scandal (+video)
Alberto Contador of Spain, a three-time Tour de France champion, was stripped of his 2010 title by the Court of Arbitration for Sport because of a failed drug test.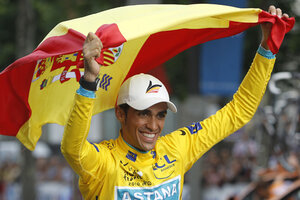 Christophe Ena/AP/File
Alberto Contador was stripped of his 2010 Tour de France title Monday and banned for two years after sport's highest court found the Spanish cyclist guilty of doping.
The Court of Arbitration for Sport suspended the three-time Tour champion after rejecting his claim that his positive test for clenbuterol was caused by eating contaminated meat on a 2010 Tour rest day.
The three-man CAS panel upheld appeals by the International Cycling Union and World Anti-Doping Agency, which challenged a Spanish cycling tribunal's decision last year to exonerate Contador.
CAS backdated Contador's ban, and he is eligible to return to competition on Aug. 6. The ban means Contador will miss the Giro d'Italia, the Tour de France and the London Olympics, but he would be eligible to ride in the Spanish Vuelta, which begins Aug. 18.
Contador had no immediate comment and is expected to hold a news conference Tuesday. He can appeal the verdict to Switzerland's supreme court.
The ruling came just three days after U.S. federal prosecutors dropped a doping investigation involving seven-time Tour winner Lance Armstrong. The American was a teammate of Contador during the Spaniard's 2009 Tour victory. The revised list of champions shows Armstrong and Contador combined to win nine of the 11 Tours from 1999-2009.
---