Negros earthquake: Urgent rescue efforts as death toll rises (+video)
Negros earthquake: Philippines President Aquino ordered armed forces to join rescue efforts on Negros Island as the death toll from Monday's 6.9 quake rose to 22.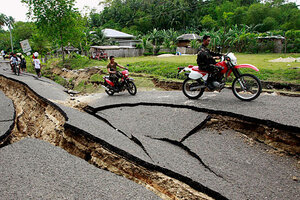 REUTERS/Erik De Castro
Dozens of people were still missing Tuesday following a strong earthquake that triggered landslides and damaged buildings and roads on a central Philippine island. The death toll reached 22, but officials said it was likely to rise further as rescuers struggle to reach remote areas.
Monday's magnitude-6.9 quake also collapsed bridges on Negros Island, forcing soldiers and firefighters to hike mountains to reach remote villages. Most of the confirmed deaths were in Planas village, a part of Guihulngan town where some 30 houses were buried under concrete debris.
Benito Ramos, head of the Office of Civil Defense, said by telephone that the number of dead from the earthquake had risen to 22. Most of the new deaths were injured victims who died in the hospital, he said.
RELATED: How well do you know Asia? Take our quiz.
But Adrian Sedillo, a disaster council officer in Negros Oriental province, said the death toll was likely to rise. There were reports of at least 14 more deaths, but the number will be added to the official count only after authorities verify that the bodies have been recovered, he said.
One of the dead not yet included in the count was a young woman whose body was dug out of a landslide in the mountain village of Solongon in La Libertad town. An unknown number of people were trapped there when a part of the mountain collapsed on about 100 houses.
Manila's ABS-CBN television showed footage of the woman's parents wailing at the landslide site after her body was retrieved late Tuesday by soldiers using shovels. The report said the woman had managed to send a text message to her relatives hours earlier telling them she was still alive and pleading for rescuers to hurry.
Guihulngan Mayor Ernesto Reyes said crews were using backhoes to try to rescue people, but he added that at the rate deaths were being reported, the town may run out of coffins.
The damage may be worse than officials realized because the quake cut off communications to some villages, Reyes said.
---