Sanctions on Iran: Iranians face shortages of rice, corn, and cooking oil
US and European sanctions are preventing Iran from buying enough rice, cooking oil, and other staples, say commodities traders. Prices for food are rising in Iran.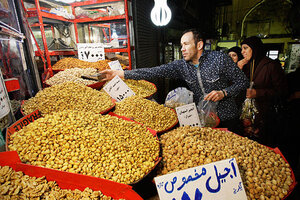 (AP Photo/Vahid Salemi)
More evidence is emerging of the crippling impact of new sanctions on Iran, with international traders saying Tehran is having trouble buying rice, cooking oil and other staples to feed its 74 million people weeks before an election.
New US financial sanctions imposed since the beginning of this year to punish Tehran over its nuclear program are playing havoc with Iran's ability to buy imports and receive payment for its oil exports, commodities traders said.
Iran denies that sanctions are causing serious harm to its economy, but Reuters investigations in recent days with commodities traders around the globe show serious disruptions to its imports. That is having a real impact on the streets of Iran, where prices for basic foodstuffs are soaring.
RELATED: Key facts about Iran sanctions
South Korean President Lee Myung-bak was in Saudi Arabia on Tuesday, the latest leader of a major Asian oil importing country to visit the Middle East seeking alternative sources of oil as sanctions make it more difficult to import from Iran.
Traders in Asia told Reuters on Tuesday that Malaysian exporters of palm oil - the source of half of Iran's consumption of a food staple used to make margarine and confectionary - had halted sales to Iran because they could not get paid.
That followed news on Monday that Iran had defaulted on payments for rice from top supplier India, and news last week that Ukrainian shipments of maize had been cut nearly in half.
---