Chavez stokes fears that if he goes, popular welfare projects go with him
But opposition candidate Henrique Capriles says he would keep the best of Chavez's welfare programs, which include healthcare and subsidized food staples, and build on them.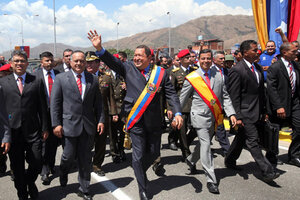 Miraflores Presidential Office/AP
Even the cats and dogs love Hugo Chavez in the backstreets of La Vega.
At least that is what grateful owners joke as they line up with their pets to take advantage of the latest initiative by the socialist Venezuelan president's network of grassroots organizations: subsidized neutering.
"If the opposition takes over, we lose all these services that Chavez has given us. We go back to zero," said Laura De Pernalete, helping organize the sterilization program in the poor Caracas neighborhood.
"La Vega is 100 percent behind Chavez."
The plethora of "missions" bringing services to Venezuela's slums and impoverished rural areas - from subsidized food to Cuban-staffed health clinics - has underpinned the socialist Chavez's popularity among the poor during 13 years in power.
He is successfully stoking fears that his signature welfare projects, such as the "Barrio Adentro" ("Inside the Slum") healthcare network, will be dismantled should the opposition win the country's presidential election on Oct. 7.
Despite opposition euphoria at selecting a young and streetwise unity candidate - Miranda state governor Henrique Capriles - to fight the election, Chavez's foes know how tough it will be to win over his loyal and passionate support base.
Piling money into more social projects in a pre-election spending spree, Chavez has an edge in polls ahead of the vote.
Yet there is disillusionment among some "Chavistas", as his supporters are known, and surveys show that about a third of Venezuelans remain undecided.
An admirer of Brazil's model of free-market economics with a solid social conscience, Capriles insists he would keep the best of Chavez's welfare programs, and even build on them.
---