Afghan peace: Karzai, Ahmadinejad in Pakistan for talks
Afghan president Hamid Karzai is seeking help in negotiating a peace deal with the Taliban from his Iranian and Pakistani counterparts in Islamabad today.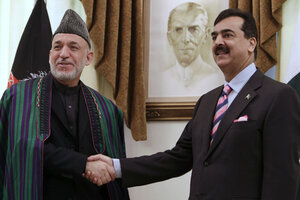 B.K. Bangash/AP
The Afghan president appealed for Pakistan's help Thursday in negotiating a peace deal with Taliban militants ahead of a summit that will also include the leader of Iran.
The meetings in Islamabad come at a time when momentum for peace talks with the Taliban seems to be growing, even as all parties to a stuttering process marked by intense mistrust say that success in ending the 10-year war in Afghanistan is far from certain.
Afghan President Hamid Karzai told The Wall Street Journal in an interview published Thursday that talks among the US, the Afghan government, and the Taliban had taken place in the past month. If true, it would mark a significant development because until now the Taliban had said they would only negotiate with the Americans, maintaining Karzai was a puppet leader and that the movement was the legitimate ruler in Afghanistan.
Taliban spokesman Zabiullah Mujahid denied Karzai's comments that negotiations have already taken place, saying in a statement "the Taliban did not talk with the Kabul government anywhere."
Pakistan is regarded as a key player in any peace process because its historical ties with the Taliban and other insurgents mean Islamabad could help bring them to the table or be a spoiler. The Taliban leadership is widely believed to be based in Pakistan, and under some influence of the country's security establishment.
---