Anthony Shadid, New York Times correspondent, dies in Syria
Anthony Shadid won Pulitzer Prizes in 2004 and 2010 for his reporting in Iraq. Anthony Shadid died Thursday at the tail end of a covert reporting trip in Syria.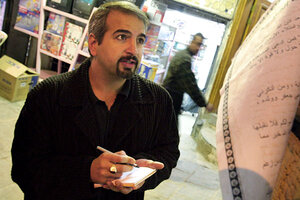 AP Photo/Bill O'Leary, The Washington Post)
New York Times correspondent Anthony Shadid, a two-time Pulitzer Prize winner whose dispatches captured untold stories from Baghdad under "shock and awe" bombing to Libya wracked by civil war, died Thursday of an apparent asthma attack in Syria while reporting on the uprising against its president.
Shadid, 43, who survived a gunshot wound in the West Bank in 2002 and was captured for six days in Libya last year, was returning with smugglers from Syria to Turkey when he collapsed, the Times said.
Times photographer Tyler Hicks told the newspaper that Shadid had suffered one bout of asthma the first night, followed by a more severe attack a week later on the way out of the country.
"I stood next to him and asked if he was OK, and then he collapsed," Hicks told the Times. Hicks carried Shadid's body to Turkey after this latest attack, the newspaper said.
"Anthony was one of our generation's finest reporters," Times Publisher Arthur Sulzberger said in a statement. "He was also an exceptionally kind and generous human being. He brought to his readers an up-close look at the globe's many war-torn regions, often at great personal risk. We were fortunate to have Anthony as a colleague, and we mourn his death."
---