Syrians in Homs feel abandoned by world
Residents are pessimistic about last week's "Friends of Syria" conference and say they see no real pressure for change.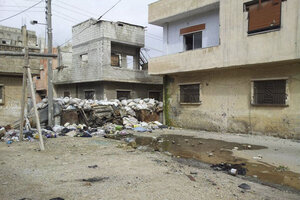 Syrian National Council/Handout
The Syrian military took its bombardment of the rebel-held Baba Amro district of Homs into a fourth week on Saturday as the Red Cross tried to evacuate more distressed civilians from the city.
At least 28 people were killed in Syria on Saturday, including nine in Homs, Syria's third city, according to the Syrian Observatory for Human Rights.
The state news agency SANA reported the funerals of 18 members of the security forces killed by "armed terrorist groups" in Homs, Deraa, Idlib and the Damascus countryside.
Deploring the outcome of an international "Friends of Syria" conference, opposition activists said the world had abandoned them to be killed by forces loyal to President Bashar al-Assad.
"They (foreign leaders) are still giving opportunities to this man who is killing us and has already killed thousands of people," said Nadir Husseini, an activist in Baba Amro.
The International Committee of the Red Cross (ICRC) said it had resumed negotiations with the Syrian authorities and the opposition to enable more civilians to be brought to safety.
Husseini said people in Baba Amro were suspicious of the ICRC's local partner, the Syrian Arab Red Crescent, and did not want to work with a group "under the control of the regime."
The ICRC denied this, saying the Syrian Red Crescent was an independent organization. "Their volunteers are risking their lives on a daily basis to help everyone with no exceptions," ICRC spokesman Hicham Hassan said in Geneva.
---