Syria vote called a 'farce' by West
Syria heads to the polls today to vote on a new constitution, a move by embattled President Bashar al-Assad to defuse an uprising.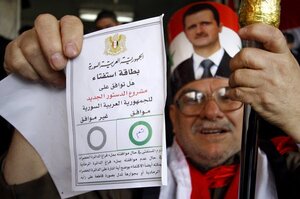 Muzaffar Salman/AP
Syria's authoritarian regime held a referendum on a new constitution Sunday, a gesture by embattled President Bashar al-Assad to placate those seeking his ouster. But the opposition deemed it an empty gesture and the West immediately dismissed the vote as a "sham."
Even as some cast ballots for what the government has tried to portray as reform, the military kept up shelling of the opposition stronghold of Homs, which has been under attack for more than three weeks after rebels took control of some neighborhoods there. Activists and residents report that hundreds have been killed in Homs in the past few weeks, including two Western journalists.
Activist groups said at least 29 people were killed on Sunday, mostly in Homs. At least 89 were reported killed on Saturday alone, one day before the referendum. Activists estimate close to 7,500 people have been killed in the 11 months since the Assad regime's brutal crackdown on dissent began.
"The referendum in Syria is nothing more than a farce," German Foreign Minister Guido Westerwelle said. "Sham votes cannot be a contribution to a resolution of the crisis. Assad must finally end the violence and clear the way for a political transition."
US, European, and Arab officials met Friday at a major international conference on the Syrian crisis in Tunisia, trying to forge a unified strategy to push Assad from power. They began planning a civilian peacekeeping mission to deploy after the regime falls.
---