Iran elections: Ahmadinejad reduced to lame duck
Forces loyal to conservative cleric Ayatollah Ali Khamenei have taken over 75 percent of the seats in parliamentary elections, leaving rival President Mahmoud Ahmadinejad weakened.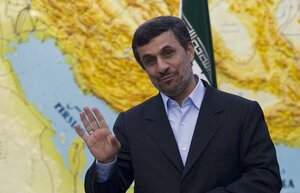 Caren Firouz/Reuters
Clerical Supreme Leader Ayatollah Ali Khamenei has tightened his grip on Iran's faction-ridden politics after loyalists won over 75 percent of seats in parliamentary elections at the expense of President Mahmoud Ahmadinejad, a near-complete count showed.
The widespread defeat of Ahmadinejad supporters - including his sister, Parvin Ahmadinejad - is expected to reduce the president to a lame duck after he sowed divisions by challenging the utmost authority of Khamenei in the governing hierarchy.
The outcome of Friday's vote, essentially a contest between conservative hardline factions with reformist leaders under house arrest, will have no big impact on Iranian foreign policy, notably its nuclear stand-off with the West. But it will boost Khamenei's influence in next year's presidential election.
With 90 percent of ballot boxes counted, Khamenei acolytes were expected to occupy more than three-quarters of the 290 seats in the Majlis (parliament), according to a list published by the interior ministry on Sunday.
In the race for the 30 seats in the capital Tehran, a Reuters tally of preliminary returns showed Khamenei supporters had taken 19 and pro-Ahmadinejad candidates the rest. Leading in popularity was Gholam-Ali Haddad Adel, a key ally of Khamenei and father-in-law to the paramount leader's son, Mojtaba.
---