China, South Korea and US warn about nuclear terrorism
Though North Korea wasn't mentioned by name, the impoverished nation's recent rocket tests cast a shadow over the nuclear proliferation summit in Seoul.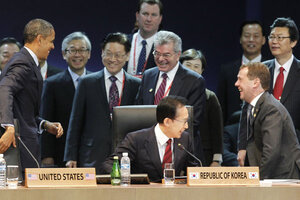 Pablo Martinez Monsivais/AP
The leaders of South Korea, the United States and China issued stark warnings Tuesday about the threat of nuclear terrorism during the final day of a nuclear summit that has so far been upstaged by North Korea's long-range rocket launch plans.
Nearly 60 leaders have gathered for the two-day conference meant to find ways to keep terrorists from detonating an atomic weapon in a major city. The leaders were to release a communique Tuesday about their efforts to lock down the world's supply of nuclear material by 2014.
Much of the drama, however, has centered on North Korea's stated plans to launch a satellite on a long-range rocket around the April 15 celebration of the birthday of North Korean founder Kim Il Sung. Washington and Seoul view the launch as cover for nuclear missile development; North Korea says the satellite is part of a peaceful space program and will help in forecasting the weather.
RELATED: North Korea to suspend nuclear activity for food: 5 key questions
---