West African states put peacekeepers on standby over Mali
Last week, Mali's democratically elected government was overthrown in a military coup, triggering cuts in aid and rising tension.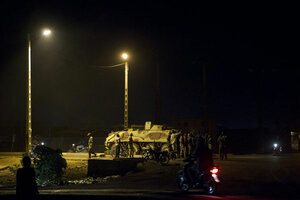 Rebecca Blackwell/AP
The body representing nations in western Africa has suspended Mali and has put a peacekeeping force on standby in the most direct threat yet to the junta that seized control of this nation in a coup last week.
Alassane Ouattara, the president of Ivory Coast who is the rotating chair of the Economic Community of West African States, or ECOWAS, told reporters after an emergency meeting in the capital of Ivory Coast that Mali's democracy cannot be abandoned. A delegation of five African presidents will head to Mali within the next 48 hours to try to "restore constitutional order."
RELATED: With coup, #Mali generates noise on Twitter
There is no immediate plan to deploy the peacekeepers who will be put on standby in the event that a military intervention is needed, said Kadre Desire Ouedraogo, the president of the ECOWAS commission. The move suggests the bloc may consider force if the mutinous soldiers who overthrew Mali's democratically elected leader do not stand down.
"We cannot allow this country endowed with such precious democratic instruments, dating back at least two decades, to leave history by regressing. It's why Mali needs to immediately return its democratic institutions to normal," said Ouattara. "This position is nonnegotiable."
Already, the United States, the European Union and France have cut off all but essential aid, representing a loss of tens of millions of dollars. Additional sanctions from the region would be a further blow to the junta, which seized control of the nation of 15 million in the wake of a mutiny at a military camp in the capital last Wednesday.
---