Chavez leading rival in run-up to Venezuela elections
The president of Venezuela has a double-digit lead over opposition candidate Henrique Capriles.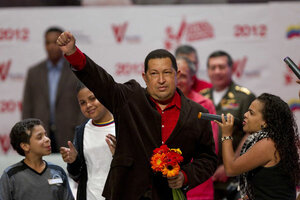 Ariana Cubillos/AP
President Hugo Chavez has a double-digit lead over the opposition's presidential candidate, but a quarter of Venezuelan voters haven't committed to either candidate, a poll said Thursday.
The survey released by the Caracas polling firm Datanalisis said nearly 45 percent of those polled said they would vote for Chavez, while 31 percent supported Miranda state Gov. Henrique Capriles. About 25 percent were undecided.
"Those undecided ones are going to indicate the trend in the future," said Luis Vicente Leon, the polling firm's president.
RELATED: Think you know Latin America? Take our geography quiz.
Chavez, who has been in office since 1999, is seeking another six-year term in the Oct. 7 election.
The survey questioned about 1,300 people in Venezuela between Feb. 29 and March 7, and had a margin of error of nearly 3 percentage points, Leon said.
He said the percentage of people expressing no choice for a candidate had increased since the firm's previous poll a month earlier, when almost 50 percent said they would vote for Chavez and 35 percent backed Capriles.
Leon said the monthly poll is paid for by about 300 clients that include both private businesses and state companies as well as individuals. He said some of the clients include political leaders, but he didn't identify them.
---