North Sea gas leak has environmental activists concerned
North Sea gas leak: An oil production platform off the Scottish coast has been leaking gas since last weekend. Environmentalists are concerned the North Sea gas leak could lead to an oil spill.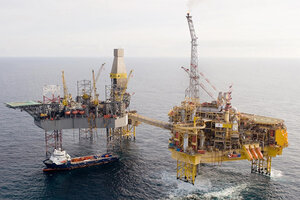 Total E&P UK Ltd/AP
Environmental groups warned Thursday they fear an oil spill could be triggered at a North Sea offshore platform that has been leaking highly pressurized gas since the weekend.
A flame is still burning in the stack above the Elgin platform, which stands about 150 miles (240 kilometers) off the coast of Aberdeen, eastern Scotland, after a leak of flammable gas Sunday— prompting all 238 staff to be evacuated on Monday.
Platform operator Total S.A. insists there is no threat of any explosion under current weather conditions, but said that surveillance flights have detected a sheen around the platform estimated to extend over 4.8 square kilometers (1.85 square miles).
The sheen is believed to be caused by gas condensate — a petrol-like substance that contains some oil. The condensate is a lighter fuel than oil, but is still dangerous.
"Elgin is sending methane into the atmosphere, which is a greenhouse gas, so there is some environmental impact at the moment. There is also oil in that well, and Total need to move before an oil spill becomes part of this leak," said Richard Dixon, director of WWF Scotland.
He warned that any major spill would have "catastrophic consequences for the environment, marine life and sea birds in Shetland, the Faroe Islands and the Norwegian coast."
Total spokesman Jacques Emmanuel Saulnier has said the situation is serious but stable, and confirmed that the cause of the leak is still being investigated.
An exclusion zone of two nautical miles (2.3 miles; 3.7 kilometers) has been set up around Elgin, with ships and aircraft ordered to stay away from the area.
Richard Lochhead, environment secretary for Scotland's semiautonomous government, said that "any gas leak on an evacuated offshore installation is, of course, deeply worrying."
---