Osama bin Laden widow: Two bin Laden children born in Pakistan hospital
Osama bin Laden fathered four children while he was a fugitive in five locations in Pakistan. Two of bin Laden's children were born in Pakistan government hospitals. Did Pakistan officials know where bin Laden was hiding?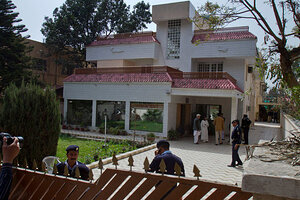 AP Photo/Anjum Naveed
Osama bin Laden lived in five safe houses while on the run in Pakistan and fathered four children — two of them born in government hospitals, his youngest widow has told investigators.
The details of bin Laden's life as a fugitive in Pakistan are contained in the interrogation report of Amal Ahmed Abdel-Fatah al-Sada, bin Laden's 30-year-old Yemeni widow. They appear to raise fresh questions over how bin Laden was able to remain undetected for so long in Pakistan after the Sept. 11, 2001 attacks, despite being the subject of a massive international manhunt.
Details from the report were first published by the Pakistani newspaper Dawn. The Associated Press obtained a copy on Friday.
In PICTURES: Bin Laden's Pakistan compound
Al-Sada is currently in Pakistani custody, along with bin Laden's two other wives and several children. They were arrested after the US raid that killed bin Laden in May in his final hideout in the Pakistani army town of Abbottabad. The U.S. Navy SEALs shot her in the leg during the operation.
---