Abu Hamza and 4 other terror suspects can be sent to US
Britain can extradite five terror suspects to the US, a European court ruled. Muslim cleric Abu Hamza al-Masri is accused of trying to set up an Al Qaeda training camp in Oregon.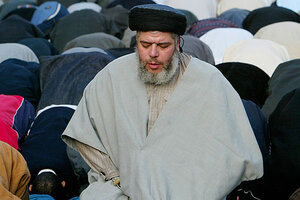 REUTERS/Toby Melville/Files
Britain can send five suspects to the United States to face terrorism charges, European judges ruled on Tuesday, a judgement that may ease domestic pressure on Prime Minister David Cameron to take a tougher line on the extradition of terror suspects.
The most high-profile suspect covered by the European Court of Human Rights ruling is Muslim cleric Abu Hamza al-Masri, a one-eyed radical with hooks for hands who hailed the Sept. 11, 2001 hijacked airliner attacks on the United States.
The Egyptian-born Hamza - real name Mustafa Kamal Mustafa - is accused by the United States of trying to set up an al Qaeda training camp in its Pacific coast state of Oregon. He also faces charges of involvement in plotting the taking of 16 Western hostages in Yemen in 1998.
---