Latest photo scandal: US soldiers pose with dead Afghan insurgents
An American soldier gave the Los Angeles Times 18 photos of US soldiers posing with dead Afghan insurgents. US Ambassador in Afghanistan Ryan Crocker called the actions of these American soldiers "morally repugnant."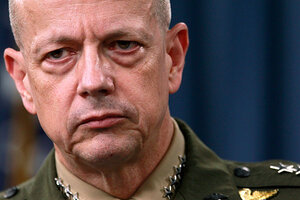 (AP Photo/Haraz N. Ghanbari, File)
Already tense U.S. and NATO ties with Afghanistan were dealt another blow on Wednesday with photographs appearing in an American newspaper of U.S. soldiers posing with the maimed bodies of dead Afghan insurgents.
Senior US officials and NATO's top commander in the country, US Gen. John Allen, moved quickly to condemn the pictures even before they were published by the Los Angeles Times, which received the photos from another soldier.
"The actions of the individuals photographed do not represent the policies of International Security Assistance Force or the U.S. Army," General Allen said in a statement, adding an investigation into the incident was underway.
RELATED: Afghanistan: Five areas of concern after US exits
An American soldier said that he gave the photos to the Los Angeles Times to draw attention to the breakdown in leadership and discipline among US troops in Afghanistan.
The appearance on the LA Times website of some of the 18 pictures, taken in 2010, comes at a sensitive time in U.S.-Afghan relations, following release of a video in January that showed four US Marines urinating on Afghan insurgent corpses.
---