Syrian army shells Homs as government pushes back on UN monitors
Reports out of the Syrian city of Homs have government forces firing mortars into an opposition neighborhood. Meanwhile, Syria has challenged the UN over its truce monitoring mission.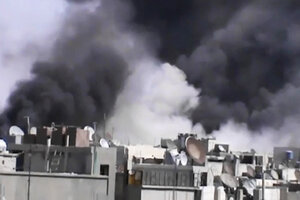 Shaam News Network via AP video/AP
Syria challenged the United Nations chief over the size and scope of a U.N. truce monitoring mission on Wednesday, resisting a larger presence as its army shelled targets in the city of Homs in violation of the ceasefire.
Despite the seven-day-old truce agreement between government and rebel forces, explosions rocked the battered Khalidiyah quarter of Homs as the army resumed what has become a daily barrage of heavy mortar shelling, and plumes of black smoke drifted over the rooftops.
In northern Idlib province, six members of the security forces were killed by a bomb placed by an "armed terrorist group", state news agency SANA said. It was the second such attack in two days.
While the truce has held in some parts of Syria since President Bashar al-Assad pledged to enforce it last week, in strong opposition areas such as Homs, Hama, Idlib and Deraa, the army has kept up attacks on rebels, using heavy weapons in violation of the pledge by Damascus to pull back.
An advance party of a half a dozen U.N. peacekeepers in blue berets, led by Colonel Ahmed Himmiche of Morocco, toured towns near Damascus on Wednesday in two white U.N. Land Cruisers with a Syrian police escort.
In Erbin their convoy was mobbed by anti-government protesters who chanted demands to arm the rebel Free Syrian Army. A banner was plastered on one U.N. car reading: "The butcher continues killings. The observers continue observing, and the people continue with their revolution. We only bow to God."
---