Dozens killed in Iraq bomb blasts Thursday
Multiple bomb explosions across the country also injured over 100 people.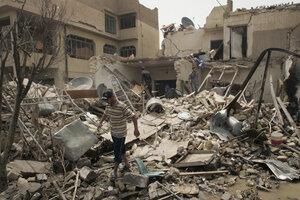 Helmiy al-Azawi/REUTERS
More than 20 bombs hit cities and towns across Iraq on Thursday, killing at least 36 and wounding almost 150, police and hospital sources said, raising fears of sectarian strife in a country whose authorities are keen to show they can now maintain security.
In Baghdad, three car bombs, two roadside bombs and one suicide car bomb hit mainly Shi'ite areas, killing 15 people and wounding 61, the sources said.
Two car bombs and three roadside bombs aimed at police and army patrols in the northern oil city of Kirkuk killed eight people and wounded 26, police and hospital sources said.
"I was trying to stop traffic to let a police patrol pass ...A car bomb exploded, I fell on the ground and police took me to the hospital," a policeman wounded in the face and chest told Reuters as doctors tended him. He declined to be named.
It was Iraq's bloodiest day since Al Qaeda's affiliate in the country, the Islamic State of Iraq group, killed at least 52 people with a series of 30 blasts on March 20.
No group has yet claimed responsibility for Thursday's attacks.
Colonel Dhiya al-Wakeel, a spokesman for the Baghdad operations command, said the attacks were an attempt to convince the Iraqi people that the country was still insecure.
"Our forces are capable of confronting such challenges and this will not affect the improvement in the security situation or our security plans," Wakeel told the State-owned, Iraqiya TV.
---