Syrian bombings kill nine, injure 100 more in Idlib
A pair of deadly explosions rocked the northern Syrian city, damaging state security buildings.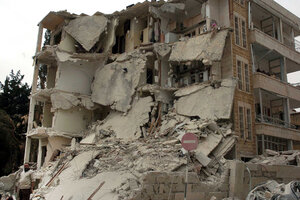 SANA/AP
Nine people including Syrian military personnel were killed and 100 wounded on Monday in bomb blasts near security service buildings in Idlib, state media said, as a bombing campaign intensified against government targets.
Twin explosions, the latest to disrupt a shaky U.N. truce, blew fronts off nearby buildings and left craters in roads, according to images on state television which showed people at the scene condemning the rebels who are fighting to oust President Bashar al-Assad.
State television blamed both blasts in the restive northwestern city on suicide bombers.
A prominent human rights activist said they appeared to target local headquarters of intelligence services for the air force and the army, two of the many security agencies that have helped keep the Assad family in power for four decades.
The activist, at the British-based Syrian Observatory of Human Rights, put the death toll at over 20. Syria bars most independent journalists, hindering verification of such figures.
State media said monitors from the United Nations team sent in to oversee the 18-day-old ceasefire were visiting the scene in Idlib. Foreign Ministry spokesman Jihad Makdissi said the head of the monitoring mission, Norwegian general Robert Mood, was being briefed on "violations by armed opposition".
Official media broadcast video of flattened cars and mangled corpses lying under tarpaulins. One man, standing amid rubble, said: "My wife and I were asleep in bed and then there was a loud explosion. It rocked the whole house and woke us all up. My wife and I and our children all ran outside.
"Is this the freedom they want? How can it be the fault of children? How can the innocents be to blame?"
---