Will China punish the family of blind Chinese activist?
The European Union tells China to use 'utmost restraint' in responding to the escape of blind dissident Chen Guangcheng. Top British diplomat urges China not to harass Chen Guangcheng's wife and daughter.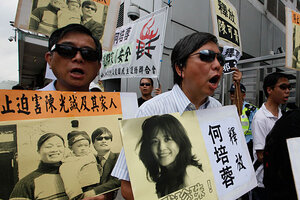 (AP Photo/Kin Cheung)
The European Union urged China on Monday to exercise "utmost restraint" over blind dissident Chen Guangcheng, who escaped house arrest last week and is believed to be under US protection in Beijing.
The United States has not confirmed whether Chen is in its diplomatic quarters in Beijing, but supporters have said he is under US protection.
"We call on the Chinese authorities to exercise utmost restraint in dealing with the matter, including avoiding harassment of his family members or any person associated with him," the Delegation of the European Union to China said in a statement.
"Human rights defenders should be treated in full compliance with Chinese laws and constitution."
RECOMMENDED: Who's who of Chinese dissidents
Chen escaped after 19 months of house arrest on April 21, since when several supporters have been detained by police. Most have since been released.
British Foreign Secretary William Hague voiced concern about Chen's case, which he said had exposed "abuse of power", and urged Beijing to guarantee the safety of Chen's family.
---