Aung San Suu Kyi takes Myanmar parliamentary oath
The longtime activist, who had been under house arrest for many years, joined her new colleagues in the country's parliament on Wednesday.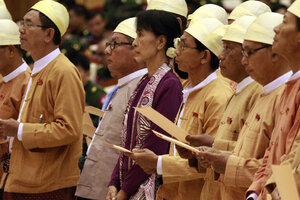 Khin Maung Win/AP
Myanmar opposition leader Aung San Suu Kyi took a historic oath on Wednesday to join a parliamentary system crafted by the generals who locked her away for much of her long struggle against dictatorship, ushering in a dramatic new political era.
The 1991 Nobel Peace Prize winner's debut in a parliament stacked with uniformed soldiers could accelerate reforms that have already included the most sweeping changes in the former British colony since a military coup 50 years ago. The signs of change have already prompted some countries to suspend sanctions.
But the wildly popular daughter of assassinated independence hero Aung San also faces the difficulty of managing the expectations of a nation impatient for change and the hopes of Burmese who see her as a sole beacon for democratic freedom.
IN PICTURES: Myanmar Edges into the Open
It is unclear how rapidly she can deliver on her ambitious campaign promises, including the overhaul of Myanmar's army-drafted constitution, in a legislature dominated by former members of the military junta who ruled for nearly half a century before ceding to a quasi-civilian government last year.
"Only time will tell," she replied when asked by a Reuters reporter of the day's significance, as she waded through a chaotic throng of reporters on her way to the chamber where she took the oath in a shortened 40-minute session.
Later, she told reporters: "I have always been cautiously optimistic about developments. In politics, you also have to be cautiously optimistic."
Suu Kyi's entry into parliament comes a month after her party's landslide victory in a by-election and two days after backing down in a standoff over the wording of an oath to protect the constitution sworn by all new members of parliament.
---