World's largest McDonald's: A big ad for obesity, say British doctors
World's largest McDonald's will be built in London for the 2012 Summer Olympics. The world's largest McDonald's will seat 1,500 and has an exclusive franchise in the Olympic village.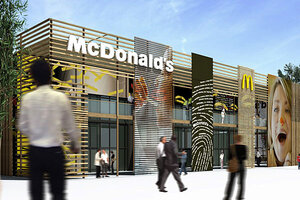 (AP Photo/Website McDonald's London 2012 Olympic Summer Games)
McDonald's is a sponsor for the London Olympics — and a British doctors' group says that's sending the wrong message in a country with ballooning obesity.
Big Macs, fries and milkshakes will be part of McDonald's exclusively branded menu at the Olympics and the fast-food giant will soon be opening its largest franchise in the world, a two-story cathedral-like restaurant that seats 1,500 customers, at London's Olympic Park. McDonald's will be the only restauranteur allowed to sell brand-name food at the games and there will also be a separate McDonald's within the athletes' village — in addition to three others at the Olympic Park.
Alongside McDonald's, Coca-Cola has the exclusive right to sell non-alcoholic drinks at Olympic venues. Heineken has been named the games' official beer.
RELATED: 10 weirdest global fast foods
"It's very sad that an event that celebrates the very best of athletic achievements should be sponsored by companies contributing to the obesity problem and unhealthy habits," said Terence Stephenson, a spokesman for the Academy of Royal Medical Colleges. The group is calling upon the British government to restrict advertising by McDonald's, Coca-Cola and Heineken during the Olympic Games, which are being held in London from July 27 to Aug.12.
But that's unlikely to happen. London Olympic organizers have defended their decision to accept McDonald's sponsorship as a business deal.
"Sponsors provide a huge amount of the funding required to stage the games," said a spokesman for the organizing committee in a statement. "Without our partners such as McDonald's, the games simply wouldn't happen."
---