Four dead after attack on Syrian anti-government student protesters
Reports say fellow students who backed the Assad regime joined forces with Syrian security to assault those involved in a protest march on a college campus in Aleppo.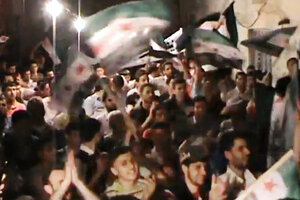 Syria Media Center via APTN/AP
Syrian security men and students wielding knives attacked a protest march at Aleppo University on Thursday, activists said, killing four and rounding up dozens of demonstrators who were demanding President Bashar al-Assad step down.
In an unusually bloody incident for Syria's hitherto fairly peaceful commercial hub and second city, video posted on the Internet showed young people chanting slogans against the ruling family and being drowned out by gunfire. Activists posted images of a bloodied corpse and what they said was a burning dormitory.
A British-based opposition group, the Syrian Observatory for Human Rights, said at least four were killed and some 28 other students were wounded, three critically. Some 200 were arrested in the latest violence to breached a three-week-old U.N. truce.
Knife-wielding youths had joined the security forces in the attack on fellow students on the Aleppo campus, the group said, adding that teargas had been fired on what started as the latest of an almost daily series of peaceful protests by the students.
"Freedom forever in spite of you, Assad!" chanted the young demonstrators in a video shot in early morning twilight.
There was no comment from officials and it was not possible to verify the account from the northern city whose relatively prosperous, business-oriented population has been slow to join the 14-month-old revolt against the Assad's four-decade rule.
Syria's middle classes, and substantial religious and ethnic minorities, are fearful that an uprising dominated by Sunni Muslims, who form 80 percent of the population, against an elite around Assad, which is drawn largely from his Alawite minority, could descend into the kind of sectarian and ethnic bloodbath they have watched destroy neighbouring Iraq over recent years.
---