Greece has only one chance left to avoid another election
Socialist party leader Evangelos Venizelos today became the third politician this week to fail at forming a coalition government. If the president does too, Greece will head back to the polls.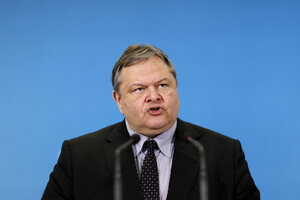 Kostas Tsironis/AP
Deeply divided over the value of austerity measures, Greece's wrangling politicians failed today to form a new coalition government, leaving only one more meeting with the country's president before new elections are scheduled for June.
Socialist party leader and former finance minister Evangelos Venizelos, the third party leader this week to fail at the task, said he would hand the mandate back to the president tomorrow. The president will then bring all party leaders together in a last-ditch attempt to create a coalition.
Greece has plunged into political turmoil since elections on May 6 gave no party enough seats in Parliament to form a government. Voters furious at two years of harsh austerity measures taken in return for international bailouts worth €240 billion ($310 billion) rejected Greece's two formerly dominant parties, the socialist PASOK and the conservative New Democracy, in favor of a myriad of smaller parties on the left and right.
The anti-bailout Radical Left Coalition, or Syriza, led by Alexis Tsipras made the most gains, coming in second with 16.8 percent of the vote and 52 seats in the 300-member parliament, campaigning on a pledge to overturn the austerity measures.
Tsipras has refused to join any coalition government that says it will implement the bailout deal.
"The rejection of this plan does not come from Syriza but was given by the Greek people on the night of the election," Tsipras said after no solution was reached in his meeting tonight with Venizelos. "The bailout austerity has already been denounced by the Greek people with its vote, and no government has the right to enforce it."
The other political leaders insist his policy is irresponsible and will force Greece out of the euro, but also say his party is essential in any power-sharing deal after coming second in the election.
---