Russian, French, Italian jobs hang on Sukhoi Superjet crash probe
No survivors have been found at the crash site of the Russian Sukhoi Superjet in Indonesia. A key question: Was it pilot error or equipment malfunction?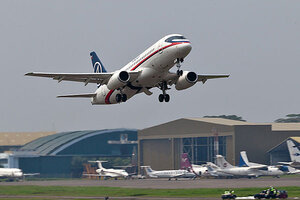 (AP Photo/Sergey Dolya)
The hilltop crash of a Sukhoi Superjet 100 passenger jet ferrying journalists and dignitaries on a mission to drum up foreign sales in Indonesia potentially casts a shadow over Kremlin efforts to restore Russia's once mighty aerospace industry.
Analysts can't yet say how far the loss of the first new passenger jet since the fall of the Soviet Union will damage the rebirth of Russian aviation, but agree it deals a psychological blow at a time when domestic air safety is also under scrutiny.
A rescue team found bodies but no survivors on Thursday in the wreckage of the Russian passenger jet that crashed with 45 people on board. Among the victims were Indonesian reporters and businessmen, eight Russians including embassy officials, pilots and technicians, two Italians, a French citizen and an American, the head of Sukhoi Civil Aircraft, Vladimir Prisyazhnuyuk said.
IN PICTURES: Russia's military might
The aircraft was on a promotional tour to showcase Russia's arrival as a peer to regional jetmakers like Brazil's Embraer or Canada's Bombardier, with Russia especially anxious to shake off the poor safety reputation of its earlier Soviet domestic fleet.
---