China rails at 30 percent tariff on solar panels
China says the US is "deliberately provoking trade friction in the clean energy sector." The US says Chinese exporters were dumping cut-price solar panels in the US market.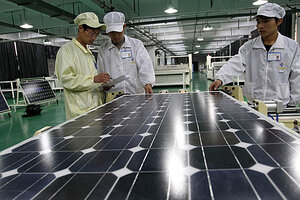 AP
The United States imposed punitive tariffs on solar panel imports from China, the latest in a series of trade disputes between the world's two biggest economies and sparking accusations by Beijing of protectionism.
The new tariffs of around 30 percent, much bigger than had been expected, were set on Thursday by the U.S. Commerce Department after it ruled in favor of local firms which said Chinese exporters were dumping cut-price panels on their market.
The size of the tariffs is larger than Chinese companies had expected and some analysts said it might prompt them to manufacture elsewhere or look for alternative markets.
RECOMMENDED: Top 5 nations using renewable energy
"The US decision lacks fairness and China expresses its strong displeasure", a spokesman for China's Ministry of Commerce, Shen Danyang, said in a statement posted on the ministry's website (www.mofcom.gov.cn).
"By deliberately provoking trade friction in the clean energy sector, the U.S. is sending the world a negative signal about trade protectionism," Shen said.
However, Beijing stopped short of threatening immediate retaliation.
"We believe these measures by the United States damage China-U.S. cooperation in the renewable and clean energy sectors ... We hope the United States can appropriately resolve the relevant issues and take practical steps to respond to China's demands," Foreign Ministry spokesman Hong Lei said.
The tariffs apply to most top Chinese exporters, including Suntech Power Holdings Co Ltd and Trina Solar Ltd, at about 31 percent.
---