Lady Gaga target of a ban in the Philippines now
Lady Gaga saw her concert in Indonesia canceled earlier this week. Now, a Christian group in the Philippines is protesting Lady Gaga's 'Born this Way' Asian tour.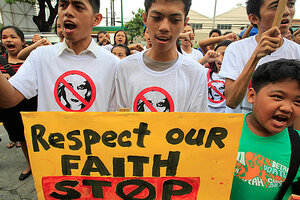 (AP Photo/Bullit Marquez)
Scores of Christian youths in the Philippines chanted "Stop the Lady Gaga concerts" at a rally Friday calling for the pop diva's shows here to be canceled despite assurances from authorities that they won't allow nudity and lewd acts.
Sold-out crowds and angry protests have followed Lady Gaga's "Born This Way" Asian tour. Fans younger than 18 were banned from the Seoul concerts over complaints her lyrics and costumes were too sexually provocative, and she was denied a concert permit in Indonesia by police under pressure from Islamic hard-liners.
About 70 members of a group called Biblemode Youth Philippines rallied in front of the Pasay City Hall in metropolitan Manila. They said they were offended by Lady Gaga's music and videos, in particular her song "Judas," which they say mocks Jesus Christ.
Lady Gaga has secured papers for two concerts Monday and Tuesday, but Pasay City Mayor Antonino Calixto said he told organizers to ensure that "they follow the rules and regulations stipulated in the concert permit earlier provided by the city government."
---