Passenger train collides with freight train in India
At least 25 people died in a collision between two trains in India. Seventy survived. India has one of the largest railway networks in the world.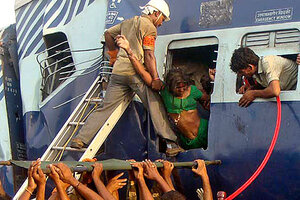 AP
A passenger train rammed into a parked freight train and caught fire before dawn Tuesday in southern India, killing at least 25 people and injuring dozens more.
Rescuers worked for about six hours to pull some 70 survivors from the twisted and smoldering wreckage near the southwestern border of Andhra Pradesh state.
At least 40 people were hospitalized with injuries, with about 10 in critical condition, local police chief Charu Sinha said.Railway accidents are relatively common in India, which has one of the world's largest networks and serves some 20 million passengers a day. Most collisions are blamed on poor maintenance and human error. The latest collision is likely to renew calls for more investment in rail safety.
IN PICTURES: Transportation around the world
The driver of the Hampi Express, upon seeing the cargo train stopped on the tracks ahead, slammed on the emergency brakes, which caused four cars of the Express to derail, officials said.
Firefighters and police put out the flames within three hours. Railway Minister Mukul Roy ordered an investigation, while officials said they were looking into whether the driver may have missed a signal or if the signal had malfunctioned.
"It seems that the driver of the Hampi Express overshot the signal," railway spokesman Anil Saxena said in Delhi. The driver and his assistant were among those hospitalized and had not yet been questioned by authorities.
---